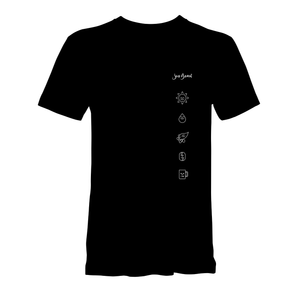 Proudly wear your Joe Bean Roasters Tee and show your support of specialty coffee. This shirt celebrates the journey of specialty coffee and all those involved in producing it from seed to cup, creating coffee that lifts everyone!
Comes in small-2XL sizes. Black, 100% cotton. Unisex.

About Joe Bean Roasters

Joe Bean Coffee, founded in 2011 by a group of family and friends, works directly with small-scale, passionate coffee farmers—a network of trusted partners they have spent over ten years developing. They believe in giving selling power back to farmers as well as purchasing power into the hands of their customers. Their mission is that together, we can break old cycles of inequality, create mutually beneficial global friendships, and coffee that lifts everyone. Joe Bean's products include a csa-style subscription program, a line of in-season single origins, sustainably sourced blends, nitro cold brew, and specialty instant coffee. As a B Corp certified business, uplifting people and planet is always at their core. Over the years, they have earned numerous national awards including Good Food Awards, Golden Bean medals, and finalist in the SCA Roaster Championship.