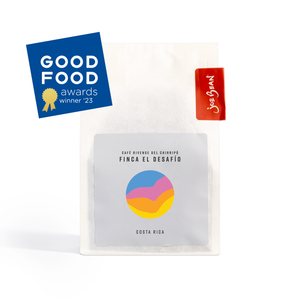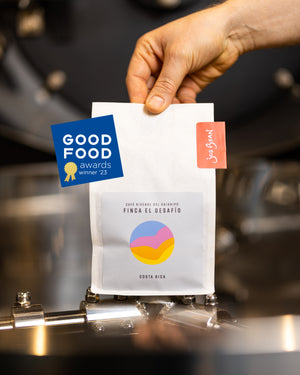 COSTA RICA FINCA EL DESAFIO
Tasting Notes: Plum, Rose, Mandarin Orange, Banana
A 2023 Good Food Award Winner—Finca El Desafio, grown by the Ureñas family, is an outstanding coffee with tropical notes of plum, mandarin orange, and banana plus a sweet floral bouquet. This years harvest will wow you, winner of both a 2023 Good Food Award as well as a 2023 Golden Bean Medal. 
Known for its intense fruit flavors, this microlot is exclusively made from the unique Villa Sarchí coffee plant varietal. In addition, the full honey processing method, one Cafe Rivenśe is known to have perfected, intensifies the natural sweetness found in the coffee cherries. 

Cafe Rivenśe, run by the Ureñas family for three generations, is built around family, innovation, and quality—values our family shares as well. We appreciate all the extra efforts they put into ensuring their coffees are exceptional and that the land is kept pristine.  
"Farming is essential for the world" - Ricardo Ureña Rojas
Region Information
Country: Costa Rica
Region: Chirripó
Producer: Ureña Rojas Family
Altitude: 1,550 meters
Varietals: Villa Sarchí
Processing: Full Honey
Net Weight: 340g


Watch our interview with Ricardo Ureña
Awards and Recognitions
Awards and Recognitions we have received for coffee from this producer:
• 2019 Golden Bean Category: Single Origin Espresso – Bronze (Las Torres Honey)
• 2020 Good Food Awards Finalist (Las Torres Natural)
• 2023 Good Food Awards Winner (El Desafío Honey)
• 2023 Golden Bean Category: Filter coffee – Bronze (El Desafío Honey)