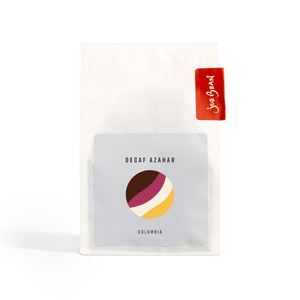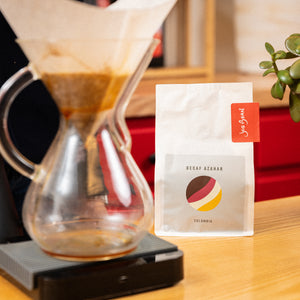 Tasting Notes: Citrus, Cranberry, Toasted Almond, Chocolate
The decaf coffee you've been looking for—full of flavor, this award-winning decaf comes to us directly from our friends at Azahar Coffee in Colombia.
What makes our decaf coffee so good?
Two things—the incredible coffee we start with and the unique sugarcane decaffeinating process. Most decaffeinated coffees use low grade green coffee to start with but ours is sourced through the same farms as our single origin coffees, ensuring it is naturally tasty from the beginning.
Then, it is decaffeinated using the sugarcane process. This natural process begins by fermenting molasses derived from sugarcane to create ethanol which is the base of the wash used to gently extract the caffeine from the bean. In addition, because sugarcane is so readily available in Colombia, this whole process occurs close to the farm, keeping it super fresh by eliminating the numerous back and forth shippings that usually take place.
We find this decaf process produces clean, sweet results. Decaf coffees often get a bad reputation, but this coffee shows that Decaf doesn't mean bad coffee!
About Azahar Coffee 
This decaf comes to us from our friends at Azahar Coffee in Colombia. Azahar Coffee, founded in 2010,  works diligently to find the best coffees grown in Colombia even if it means traveling to some of the most remote parts of the country. They are also committed to bringing higher, more stable income to farmers through direct trade relationships with roasters such as ourselves. By creating a pricing structure outside the C market, they help farmers predict future earnings enabling them to commit to growing higher quality coffee-a winning scenario for everyone. In addition, Azahar ensures that the people of Colombia enjoy the work of their own hands by creating specialty coffee cafes across the country that serve high quality Colombian coffee. 
Region Information
Country: Colombia
Altitude: 1,700-2,000 meters
Varietals: Caturra, Castillo, Colombia
Production Method: Sugarcane Decaf
Net Weight: 12 oz.
Awards and Recognitions
Awards and Recognitions we have received for coffee from this producer:
• 2017 Golden Bean Award Winner Category: Decaf Milk Based – Gold
• 2018 Golden Bean Award Winner Category: Decaf Milk Based – Silver
• 2019 Golden Bean Award Winner Category: Decaf Milk Based – Bronze