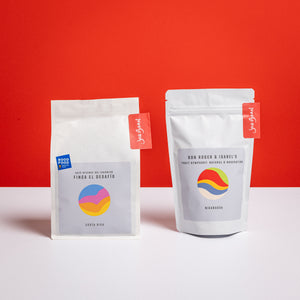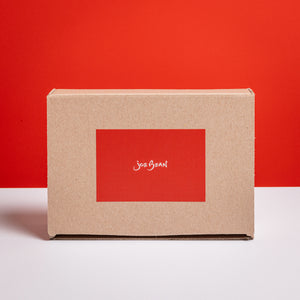 TWO EXCEPTIONAL COFFEES 

If you're looking for a gift to impress the coffee aficionado in your life, this is the one. This collection includes two multi-award winning coffees—the Costa Rica El Desafio and Don Roger Fruit Symphony. 
Costa Rica Finca El Desafio —A 2023 Good Food Award Winner and Golden Bean Medalist, Finca El Desafio, grown by the Ureñas family, is an outstanding coffee with tropical notes of plum, mandarin orange, and banana. An impressive coffee, it was created using the unique Villa Sarchí coffee plant varietal, known for its vibrant fruitiness, as well as a full honey processing method—a technique that the Ureñas family has mastered. 
Don Roger Fruit Symphony— Listed by Coffee Review as one of the top 30 Coffees of The Year in 2022, Don Roger Fruit Symphony was created exclusively for Joe Bean. This carefully crafted coffee has undergone both carbonic maceration processing in sealed tanks as well as natural processing in the sun. It is bursting at the seams with flavors of kiwi, strawberry jam, papaya, and fuji apple, and a distinct ruby port wine finish, thanks to the carbonic fermentation process.
ADD A NOTE
Click the "Is This a Gift?" box at checkout to add a custom note, if desired.