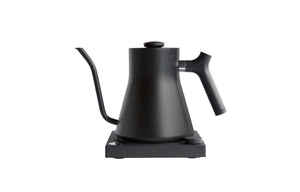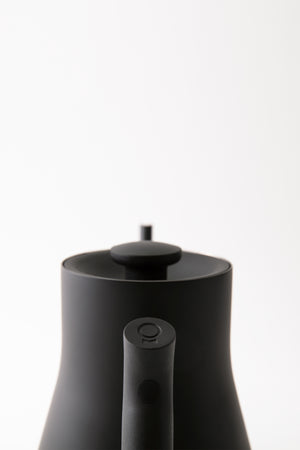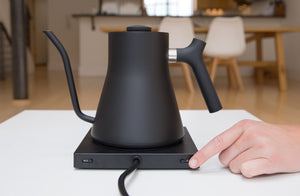 Stagg EKG Electric Kettle
Stagg EKG Electric Kettle  
An award-winning kettle for both design and functionality, the Stagg EKG Electric Kettle from Fellow Products is an essential for pour-over brewing. We've used a lot of gooseneck kettles over the years and have to say that this is one of the best we've ever brewed with. We love the ergonomic feel, ease of use, special features and the way it looks on our counter! Featuring a precision pour spout, variable temperature control, LCD screen, 60-minute hold mode, a brew stopwatch, and a minimalist base. 
Available in Matte Black. 
This kettle is specifically designed for pour-over coffee brewing, if you are looking for a kettle for instant coffee, tea, etc.. check out our Corvo EKG Electric Kettle.
Product Specs

Plug: Type-B (for U.S. and Canada)
Power: 1200W, 120V~, 50/60Hz, 9A
Material: 304 stainless steel kettle body and lid, plastic base. 
Temperature Range: 135-212 F / 57-100 C
Volume: 0.9L to the max fill line
Cord Length: 2.5 ft
Weight: 2.75 lbs/1,274 g (includes kettle base) 
0.9L Dimensions: 11.5″x 6.75″x 8″ (292mm x 171mm x 203mm)
0.6L Dimensions: 10.5″ x 7.5″ x 7.75″ (267mm x 191mm x 197mm)
Product Certifications: ETL compliance, FCC certified