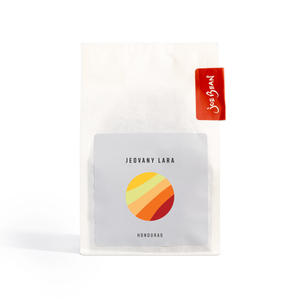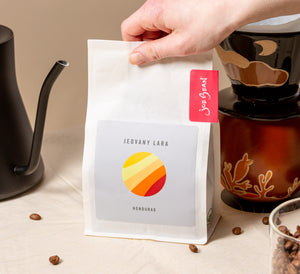 Flavor Notes: Honeydew Melon, Quince, Cinnamon, Milk Chocolate
This is our fifth year purchasing from Jeovany Lara, we continue to be impressed with the consistent clarity and sweetness of his coffee. Jeovany (above right) works closely with Benjamin Paz (on his left), owner of the San Vicente dry mill, who has worked relentlessly over the years to help the world discover the amazing coffee farmers from the Santa Barbara region of Honduras.
Benjamin's family began farming in the area in the early 1980's during a time when Honduras did not have a remarkable reputation for specialty coffee. After building their own family farm's coffee to be competitive with some of the best in the world; they turned their focus to helping their neighboring farms do the same.
Beneficio San Vicente is now one of the world's most highly esteemed sources for specialty coffee with many of their farming partners dominating national and international coffee competitions.
The Paz family meticulously separates every coffee lot delivered to their mill. They also provide consultation for every farmer they work with as well as help connect farmers such as Jeovany to roasters like ourselves so that we can purchase directly.
Such innovative teamwork enables sustainable, quality-focused systems to exist that are good for everyone involved. We are very excited to be working with individuals who are growing amazing coffees as well as creating groundbreaking systems within their own communities.
Region Information
Country: Honduras
Region: Santa Barbara
Producer: Jeovany Lara
Altitude: 1,900 meters
Varietals: Pacas
Processing: Washed