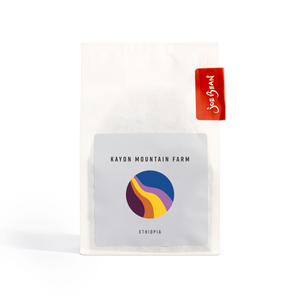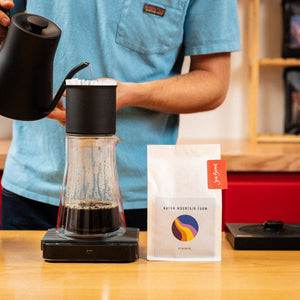 Tasting Notes: Blueberry, Lavender, Apricot ,
Golden Raisin, Merlot Wine
Kayon Mountain Coffee Farm is located in the Oromia region, in the Odo Shakiso district of the Guji zone. Coffees from the Guji region, such as this one, are well known for their vibrant jam-like fruit characteristics. As a recipient of multiple Good Food Awards over the years, there is little doubt to this farm's commitment to quality.
Founded in 2012, Kayon Mountain is owned and operated by Ismael Hassen and his family. Their goal is to produce the high-quality coffee using socially responsible, biodynamic farming practices. Of the 500 hectares his family owns, only half the land is used for farming, with the remainder preserved as wild forest. Coffee plants are grown under a shade canopy of indigenous trees. Compost and natural fertilizers are used to keep plants healthy and organic practices are followed to manage weeds and pests—avoiding the use of harsh chemicals. Esmael's team of technical staff are trained in using organic methods to manage the farm both during and after harvest.
Coffee is hand-picked with strict ripeness guidelines. Natural coffees, such as this lot, begin drying the day of picking on raised beds. While drying, the coffee cherries are regularly rotated to ensure even drying. Kayon Mountain owns their own eco-milling equipment, and fully processes their coffee right at the farm. 
Once processed, coffees are separated into unique micro-lots based on quality, and flavor profile. This micro-lot stood out to us for its intense blueberry, apricot sweetness and complex aroma.
REGION INFORMATION
Country: Ethiopia 
Region: Guji
Producer: Kayon Mountain Coffee Farm
Altitude: 1,900-2,200 meters
Varietal: Ethiopia Heirloom Varietals 
Processing: Natural
Net Weight: 12 oz
Save 10% With Perpetual Joy Coffee Subscription
Looking for an easy way to manage your at home coffee? 
Our coffee subscription, Perpetual Joy, might be for you.
It's curated, simple, and always super fresh. 
Rotating in-season bags of just roasted coffee come right to your door.
Choose how often and how many bags. We do the rest. 
Make changes anytime. No obligation. 
And you get 10% off every bag, early access to new coffees, special offers, and more!
Click here to get started.