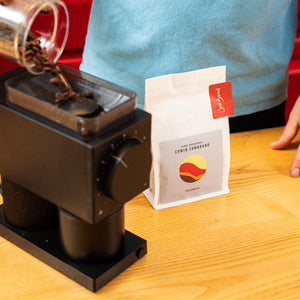 Tasting Notes: Orange Juice, Pineapple, Fresh Strawberry, Cacao Nibs
Edwin Zambrano (pictured above, right), owner of Finca Buenavista, hand-selected the best of this year's coffee cherries to create this stellar, naturally processed micro-lot. Fans of Joe Bean may remember this coffee from last year under the name of Edwin's mother, Dońa Nohora (pictured above, left). Since last years harvest, Edwin and his wife have taken over her family farm allowing his mother to have a much deserved retirement. However, attention to detail as well as pursuit of excellence are clearly  shared values between mother to son since this coffee is just as perfect as we remember!
To amplify their natural sweetness and intensify their fruitiness, these coffee cherries are immersed in water tanks for over 60 hours. They are then sun-dried on raised beds for 45 days until they are absolutely perfect. 
All that attention to detail cultivates a coffee teeming with juicy orange, sweet pineapple, fresh strawberry, and dark chocolate notes. It also reflects the fruit of working with diligence and patience—both of which naturally processed coffees require plenty of in order to have exceptional results.
Finca Buenavista is part of the Azahar Coffee family of coffee farms, an organization working throughout Colombia to bring together producers of the highest quality. Through their hard work, they are changing the landscape of Colombia by bringing necessary resources, enabling full traceability, and providing direct trade access to hundreds of farmers such as Edwin Zambrano.
Region Information
Country: Colombia
Region: Huila
Producer: Edwin Zambrano 
Altitude: 1,700 meters
Varietals: Castillo, Colombia 
Processing: Natural 
Net Weight: 12 oz.
See Write Up by Coffee Review

Blind Assessment: Fruit-forward, crisply tropical. Strawberry guava, baking chocolate, lemon verbena, fresh-cut oak, brown sugar in aroma and cup. Sweet in structure with balanced, lively acidity; plush, syrupy mouthfeel. Crisply cocoa-toned finish with undertones of lemon verbena.
Notes: Produced by Edwin Zambrano of Finca Buenavista from trees of the Castillo and Colombia varieties of Arabica, and processed by the natural method (dried in the whole fruit). Joe Bean Roasters is a specialty retail and wholesale coffee roaster based in Rochester, New York.
The Bottom Line: An inviting, cleanly fruit-toned, natural-processed Colombia cup with a crisp chocolate throughline.
Save 10% With Perpetual Joy Coffee Subscription
Looking for an easy way to manage your at home coffee? 
Our coffee subscription, Perpetual Joy, might be for you.
It's curated, simple, and always super fresh. 
Rotating in-season bags of just roasted coffee come right to your door.
Choose how often and how many bags. We do the rest. 
Make changes anytime. No obligation. 
And you get 10% off every bag, early access to new coffees, special offers, and more!
Click here to get started.
Awards and Recognitions
Awards and Recognitions we have received for coffee from this producer:
• 2022 Coffee Review: Score of 93