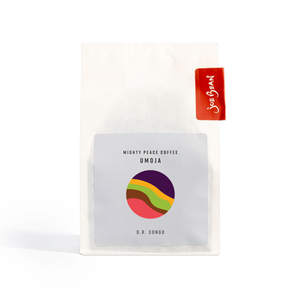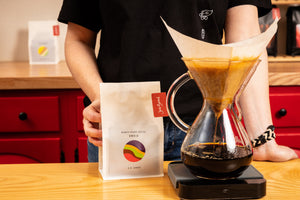 Tasting Notes: Blackberry Jam, Honey, Lime, Cinnamon, Candied Grapefruit
Umoja micro-lot selected by Mighty Peace Coffee, is grown in the Highlands along Lake Kivu. This African Great Lakes region is known for producing outstanding, high-scoring coffees, due to its unique geography and rich volcanic soil.
A team of agronomists and coffee experts from Mighty Peace Coffee carefully selected the highest scoring coffee cherries to create this specific micro-lot. They work with farmers to help improve their cup quality, and monitor coffee processing at the washing station to ensure the best practices are being followed.
By working with farms at the ground level, and by forming boutique micro-lots such as Umoja, they are able to help farmers sell their coffee at a higher price directly to roasters such as ourselves. The sale of Umoja has helped to improve the living conditions of its members—providing schooling, housing, jobs and reducing coffee smuggling on Lake Kivu, while upholding women's and pygmy rights. Umoja producers won the SCA sustainability award.
About Mighty Peace Coffee
Mighty Peace Coffee, founded in 2018, is a women-and-minority-owned social impact coffee company born out of the Congolese peace movement by an international team of business leaders, coffee experts and innovators, community organizers, and human rights defenders. They innovated a new global trade model that prioritizes love of humanity and love of the planet all while promoting peace. Their approach is disrupting the status-quo coffee industry in the Congo. 
Their mission is to provide coffee connoisseurs, specialty enthusiasts, and ethical businesses with the highest quality coffee, while sharing the stories of Congolese friends and partners to inspire, educate, and end poverty, injustice, and conflict worldwide. They recognize that the power and privilege of our conscious community can end cycles of conflict and poverty, leaving a legacy we can all be proud of.

REGION INFORMATION
Country: Democratic Republic of the Congo
Region: South Kivu 
Producer: Mighty Peace Coffee
Processing: Washed
Altitude: 1,400 – 2,000 meters
Varietals: Bourbon
Watch an Interview with Mighty Peace Coffee
Donate to the flood and landslide relief efforts