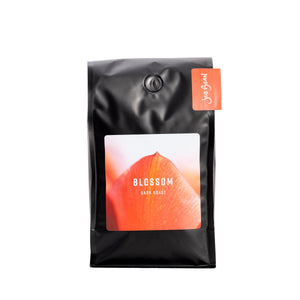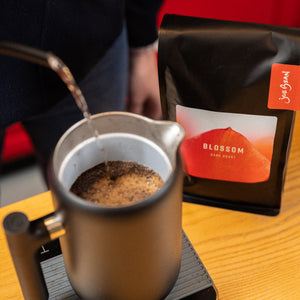 Roasty notes of dark chocolate
Every coffee bean starts its journey as a blossom on a tree, eventually turning into a green bean which ripens to a deep red (or yellow) cherry prior to being harvested. Coffee farmers know that seeing those first few blossoms on the tree means that the harvest is not far off. It is a sign of new life and beginnings. This blend is a celebration of beginnings—ones that bring hope as we enter into new seasons and lift each other up along our journeys. 
This blend showcases coffee from our friends at Gold Mountain Farms in Nicaragua, our first direct trade relationship. That friendship was our beginning into a new way of working—one that breaks old cycles of inequality as well as creates mutually beneficial global partnerships. 
We hope you enjoy this full-bodied cup with its pleasant roasty notes of dark chocolate and a sweet finish

About Gold Mountain Coffee 
Gold Mountain Coffee Growers in Nicaragua is a social enterprise that directly connects farmers with roasters such as ourselves. Our Blossom blend is created by combining harvests of several small coffee farmers in the Gold Mountain Coffee family of farmers—it is overseen for quality and consistency by their team. Blending smaller harvests enables nano-farmers to participate in direct trade—an essential path for any coffee farmer toward profitability. Gold Mountain has been working since 2007 to uplift farmers—once stuck in cycles of poverty—by enabling them to become self-sufficient and quality focused.  Over the years, Joe Bean has built strong friendships with many of the Gold Mountain family of farmers. We love the work they are doing in Nicaragua and are proud to have them as our longest direct trade relationship.
Brewing Tips
Use Filtered Water
Contaminants and chemicals in your water can make your coffee taste muddy, and they can also be harsh on your equipment. Using filtered (but not distilled) water helps your coffee taste clean, bright, and naturally sweet. And while there are a lot of expensive water filters on the market, we find that an inexpensive, basic carbon filter does a great job filtering water for coffee brewing. 
Grind Fresh
We all love the smell of freshly ground coffee but all that beautiful aroma should be going into your cup and not just into the air. That is why we recommend grinding your coffee immediately before brewing so that all that goodness isn't lost. The sooner you use your coffee after grinding, the more flavorful your cup will be preventing it from tasting stale and flat. And for best grinding results, we highly recommend using a quality burr grinder, like a Baratza. 
Coffee to Water Ratio
The amount of coffee beans you use can have a big impact on taste. Too much coffee, and the cup can taste heavy and sour. Too little coffee, and the cup can taste thin and bitter. We recommend using a 1:16 ratio by weight, 60g of coffee for every 1,000g of water which is about 2 Tbsp of coffee for every 8oz of water. Our preference is to use a scale to weigh coffee and water for accuracy and consistency, all of which can make a big difference.
Subscribe and Save
Save time and money by signing up for regular deliveries of your favorite Joe Bean blend. Pick how many bags you would like plus frequency—we take care of the rest. Your freshly roasted beans arrive right to your door. You can change, pause, or stop your subscription at any time simply by signing into your account. A reminder email goes out prior to order going through so you always know when to expect delivery.
If you would like local pick-up, use the code PICKUP at checkout.
About Our Give Back Program
As part of our Give Back Program, Joe Bean will be giving 3% of all blends purchases back to our current not-for-profit partner, Friends of Ganondagan. The internationally recognized resource for Seneca and Haudenosaunee history, Ganondagan also acts as a bridge between Native American and non-Native cultures. Click here to learn more about them or our Give Back Program