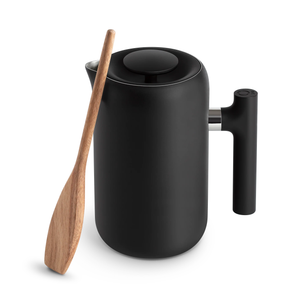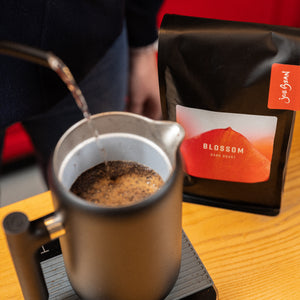 Clara French Press  
Though there are many French Press brewers on the market, the Clara is special. From product design gurus, Fellow Products, it's all the extra special touches they put into designing this one that make it a pure pleasure to use. Here's just a few of the reasons we love it. 
An all-directional pour lid solves the common problem of needing to align the spout before pouring.
No scale? No problem with their handy coffee and water lines built right into the brewer. Just fill and brew.
The non-stick coating inside makes it truly easy to clean. Head to your compost bin and watch all the grounds just slide out. 
The enhanced mesh filter ensures no grounds end up floating around in your cup too which is always nice! It also enables clean, full-bodied brewing. 
Comes with a wooden agitation stick to ensure even extraction.  
Available in Matte Black. 
Product Specs
Capacity: 24 oz

Dimensions: 170 mm (L) x 115 mm (W) x 200 mm (H)

Weight: 917 g (with plastic handle)

Materials: Stainless steel body and filter, BPA-free plastic lid and handle, Non-stick PTFE-coated interior (PFOA-free).