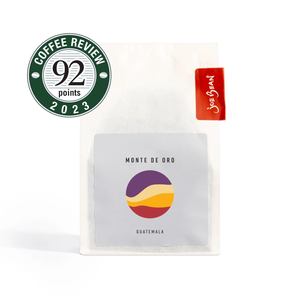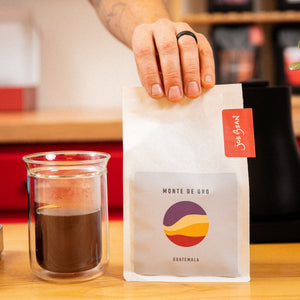 Flavor Notes: Grape Jam, Peach, Mango, Clove
Finca Monte de Oro, "Mountain of Gold" in Guatemala, owned by the Melendez family, has stood for excellence and quality for over 5 generations. They have been the catalyst for building the reputation of the Acatenango Valley, where their farm is located, as a specialty coffee growing area as well as strong advocates for direct trade practices. 
The unique microclimate found in this region of Guatemala as well as the constant eruptions from the nearby Fuego volcano bring together the perfect conditions to create coffees with depth as well as distinct fruit forward characteristics. In addition, the close proximity to the Pacific ocean brings in temperate gusts and marked seasons, unusual for Guatemala, enabling the Melendez family to sun dry their coffee cherries—baking in even more of that sweetness.
Our green buyer, Ben (pictured above, left) was recently able to visit Mario Ricardo Alarcón Melendez (pictured above, right) at his beautiful farm in the Acatenango Valley to learn more about his coffee as well as some of his exciting, upcoming projects. Mario is also the co-founder of Truth Trading Company along with Christian Starry, an independent coffee exporting company that has enabled them to direct trade with roasters such as ourselves, as well as open that opportunity up to neighboring farms.
Region Information
Country: Guatemala
Region: Acatenango 
Varietals: Caturra
Altitude: 1,530 - 1,690 meters
Processing: Natural
Net Weight: 12 oz.