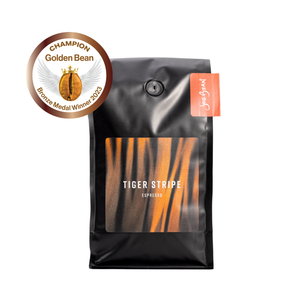 Full-bodied
with notes of
chocolate & 
almond
Winner of a 2023 Golden Bean medal, this classic espresso blend is named after the beautiful range of colors, from mahogany to orange, found in a perfect espresso shot. A blend of rotating Central American coffees, it is sweet & full-bodied with notes of chocolate & almond—perfect on its own, or with steamed milk. Created to be a versatile espresso blend, you'll find that this coffee is easy to dial-in and it is consistently tasty across a range of brewing recipes. 
About Our Sourcing 
Our blends are created from community-blended micro-lots sourced through our farming partner relationships. Roughly 70% of all specialty coffee farmers lack the resources to form direct trade partnerships. However, by pooling their harvests (community blending) and teaming up with Joe Bean's sourcing partners, they are able to send us some amazing coffees which hold their own in the  specialty market.  And by working together, each farmer assumes less risk while learning to develop all the right components of a high-end, micro-lot coffee farm; a critical step toward self sufficiency and profitability.  
Brewing Tips
Use an 18g dose
Grind directly into your portafilter. Use your finger or a distribution tool to spread the grounds evenly before you tamp. Keeping your grounds as even as possible will lead to the best tasting shot.
Aim for a 40g – 45g yield
Yield can have a large impact on taste. Aiming for a larger yield can help your espresso taste balanced and complex. If you feel that your shot is lacking in flavor, try adjusting your shot time before changing your yield.
35 sec - 40 sec shot time
A shot that runs too quickly can be thin and sour. Shots that run too slowly can be heavy and bitter. The best way to adjust your target shot time is by making your grind size more coarse, or more fine. A fine grind will create a longer shot time, a coarse grind will run faster.
Subscribe and save
Save time and money by signing up for regular deliveries of your favorite Joe Bean blend. Pick how many bags you would like plus frequency—we take care of the rest. Your freshly roasted beans arrive right to your door. You can change, pause, or stop your subscription at any time simply by signing into your account. A reminder email goes out prior to order going through so you always know when to expect delivery. 
If you would like local pick-up, use the code PICKUP at checkout.
About Our Give Back Program
As part of our Give Back Program, Joe Bean will be giving 3% of all blends purchases back to our current not-for-profit partner, Friends of Ganondagan. The internationally recognized resource for Seneca and Haudenosaunee history, Ganondagan also acts as a bridge between Native American and non-Native cultures. Click here to learn more about them or our Give Back Program

Awards and Recognitions
Awards and Recognitions we have received for this coffee:
•  2023 Golden Bean Category: Alternative Milk – Bronze