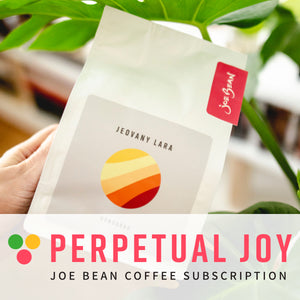 Perpetual Joy – Trademark Flower Share
Every week a freshly roasted bag of coffee will be ready and waiting for you alongside your beautiful bouquet of Trademark Flowers. Subscriptions offered during the Spring, Summer, and Fall flower shares. 
Perpetual Joy Coffee Subscription
A thoughtfully selected, rotating selection of our signature single origin coffees – each with an engaging range of flavor. Coffee tastes best when roasted at the peak of the harvest, so you will enjoy fresh selections as new crops arrive. All our coffees are directly sourced, mindfully grown, and meticulously roasted. 
You can feel extra good about drinking our coffee which comes directly from small scale, big-hearted farmers. Together, we are breaking old cycles of inequality, creating mutually beneficial, global friendships, and coffee that lifts everyone.