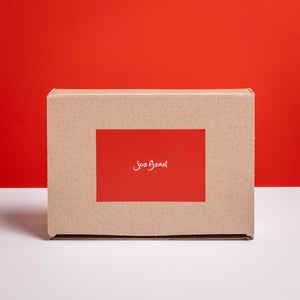 KEEP COZY WITH COFFEE 
Two of our coziest, warming blends in one box! A perfect gift for those who love comfy blankets, snuggly sweaters, and cuddling by a warm fire. This collection contains two (12oz) bags of our most cozy blends—Cashmere Seasonal Roast and Tiger Stripe. 
Cashmere Seasonal Roast—Warm and spicy with notes of chocolate, almond, cinnamon, and allspice—a perfect keep you cozy coffee.
Tiger Stripe—Winner of a 2023 Golden Bean medal, this classic espresso blend is sweet & full-bodied with notes of chocolate & almond—perfect on its own, or with steamed milk. You'll also find that this coffee is exceptionally tasty as a brewed coffee.
ADD A NOTE
Click the "Is This a Gift?" box at checkout to add a custom note, if desired. 
About Our Blends—Less than 20% of all specialty coffee farmers are able to directly sell to roasters such as ourselves, but it is a critical step in building profitable businesses. A big hindrance to many is size of farm—they simply produce too small of a harvest to participate in direct trade. But our farming partners have found a way to help. By pooling their neighbor's harvests together, they create community blended micro-lots. These micro-lots are what we build our blends around. We feel great offering them to you since they are overseen for quality by our trusted partners as well as provide a vital step of growth for the smallest of coffee farmers.