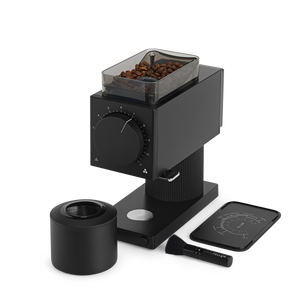 Two years in development, the upgraded Gen 2 Ode Grinder features more precision & range, a streamlined design, and expanded capacity. With new anti-static technology for less grind mess, a redesigned load bin for smoother bean feeding, and an expanded 100 gram catch cup for batch brews—the next generation of grinding is here.
One of the highly anticipated new features of this grinder is the unique, in-house designed Gen 2 Brew Burrs. Created specifically to enhance the sweetness and complexity of your cup, these burrs clock in at 64 mm with a two-stage grinding geometry and a grind range of 250-300 microns. 

Comes in Black. Not eligible for $1.99 shipping.
Thoughtful Features:
Gen 2 Brew Burrs
Anti-static technology 
100 gram capacity
31 grind settings
Quiet grinding and automatic stop
Single dose loading for maximum freshness
Low grind retention
Magnetically aligned catch with easy pour fins
Grinds knocker
Compact footprint
2-Year Warranty from manufacturer
Specs
Usage: Ode was designed for brewed coffee methods (AeroPress®, pour-over, electric coffee makers, French press, cold brew, and more). Ode Gen 2 is not recommended for espresso. 
Dimensions: 239 mm x 105 mm x 248.3 mm
Weight: 4.6 kg/10.14 lbs
Grinds capacity: 100 g
Cord length: 1 m
Power: 120V~, 140W, 1.3 A, 50-60Hz
Materials: Aluminum body, plastic load bin and base, stainless steel burrs