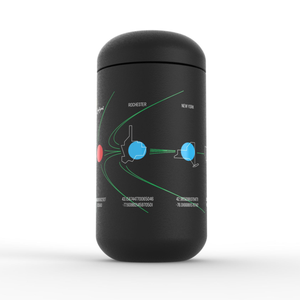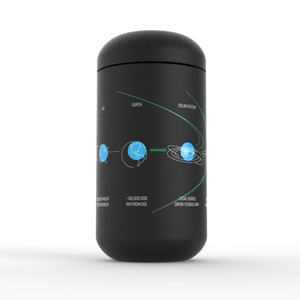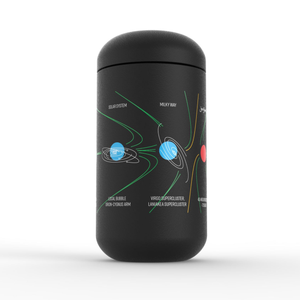 We Are Here Space Tumbler- 12oz (Black)
We Are Here Space Tumbler - 12oz (Black)
Never lose your way to Joe Bean Roasters again…. 
You can always find your way to good coffee with our new Space Tumbler—designed by our good friend, Kyle Sheth. Showcasing where we are in the country, world, universe, and beyond—it is also an amazing way to keep your coffee hot (or cold) while on-the-go—wherever that may be! 
Made from Fellow Products Carter Move Mug with Splashguard—our favorite tumbler because it has so many features that we love. (see list below) 

Product Specs 
Capacity -12 ounces

Dimensions - 77mm diameter body, 190 mm tall. 

Materials - 18/8 stainless steel, BPA-free plastic and steel lid, inner ceramic coating. 

Fits Most Car Cup Holders 

Snap-In Splash Guard 

Brewer Compatible Fits  Stagg Pour-Over Brewer, as well as most standard drippers . Not compatible with 

AeroPress® Coffee Maker, and Prismo AeroPress®

 

Why We Love It 
SNAP-IN SPLASH GUARD 
Enjoy mess-free drinking with Fellow's unique, snap-in splash guard which ensures sipping security on-the-go. 
DRINKABLE THIN LIP
A tapered thin lip mimics a Cabernet glass to deliver coffee directly to your taste buds while also sitting comfortably on your mouth.
SLIM WIDTH 

Fits into most car cup holders. 

TRUE TASTE CERAMIC COATING
Your coffee should taste how you intended. Unlike stainless steel, a ceramic interior keeps your brew free of odors, oils, and "old penny" tasting notes.
BREW-AND-GO COMPATIBILITY
Compatible with Fellow's new Stagg Pour-Over brewer which means you can brew right into the mug without it toppling over. 

HEAT-LOCK DOUBLE WALL VACUUM
Because triple walled seemed a little overboard. Our 304 18/8 insulated stainless steel retains heat for 12 hours and stays cold for 24 hours.
LEAK-PROOF SEAL
A quick, 270° twist locks the lid to eliminate liquid mishaps. You have our your-bag-is-not-getting-wet guarantee